JOINING A ZOOM MEETING
During this challenging time we need to be connected with each other. To help our Middle family to do that we have set up a Middle Zoom account to facilitate virtual meetings (video conferences) for Bible Study, Charis, and other such meetings. We encourage you to jump in and give it a try!
If you haven't done so already, download the Zoom app to your phone, tablet or computer (https://zoom.us/download).
Pastor Linda will send a meeting link to you by email or text message.
Example (not real) : https://zoom.us/j/123999434
Click on the link and the Zoom app should open, enter the link that was sent to you, and you will be in the meeting. Sometimes it takes a few minutes for the video and audio to initialize. Just hang in there!
Touch the screen (or move the mouse over the display) to see the Zoom menu at the bottom. Use the icons on the far left to unmute your voice and turn on your video.
You can also dial in as a simple phone call if you need to attend but don't have access to Zoom.
(346) 248-7799 or (669) 900-6833
Meeting ID: 123 456 789 (Use the number at the end of the Zoom link for your meeting.)
Use *6 to mute and unmute yourself in the meeting.
Helpful first time video: (YouTube)
Zoom support - Getting started
ZOOM ON IPHONE
This page will be filled out with some basic helps with using an iPhone with Zoom.
The basic screen





You might see this
The following "Safe Driving Mode" can appear if you accidentally swipe from left to right. The two dots near the bottom (see red arrow) indicate that you can swipe the screen back to the right to get back to your meeting.

WINDOWS PC
Some basic helps with using a Windows PC with Zoom.
Installation help
On a Windows PC it is typically easier to not download the Zoom app beforehand.
Just click on the Zoom link you were provided.
Or use this one for test and installation purposes - https://zoom.us/j/806442634 .
Follow the directions that will appear to install Zoom.
Click on the link... If a small window opens asking permission to run Zoom, click the Open Link button.
If Zoom asks for permission to use your camera and microphone, say yes.
Gallery view
The Gallery View typically the most useful for smaller groups, displaying all participants in a grid of same size images. You can switch to Speaker View with the icon in the upper right corner.
Note that you need to move the mouse in the screen for the lower set of icons to appear.
There are three key controls in the bottom area:
Mute / Unmute to turn off or on your microphone, so the others can hear you.
Start Video / Stop Video, to the others can see you.
End meeting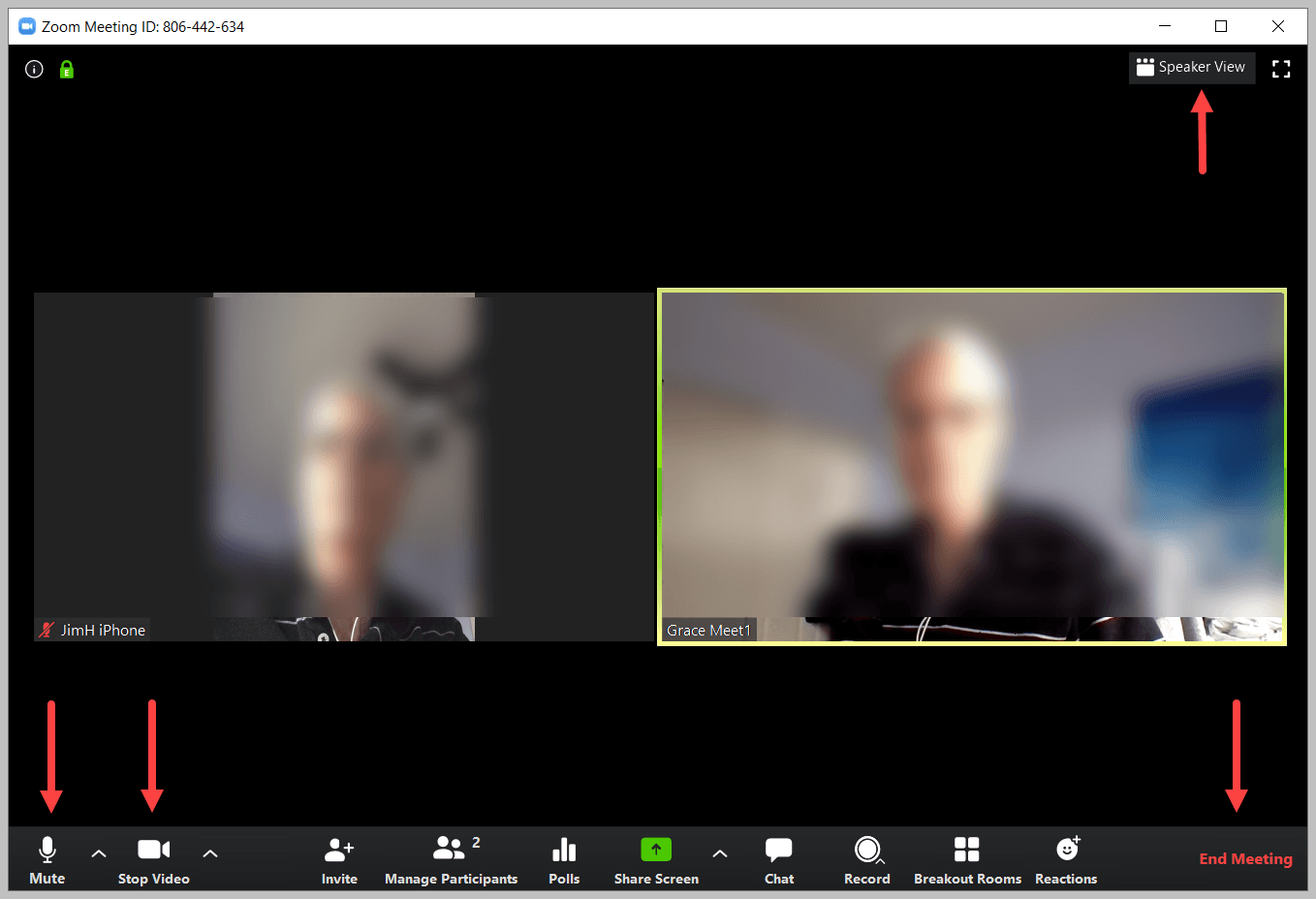 Speaker View
The following Speaker View is an option to see the attendees across the top and just he active speaker displayed in the center area. You can switch back to Gallery View with the icon in the upper right corner.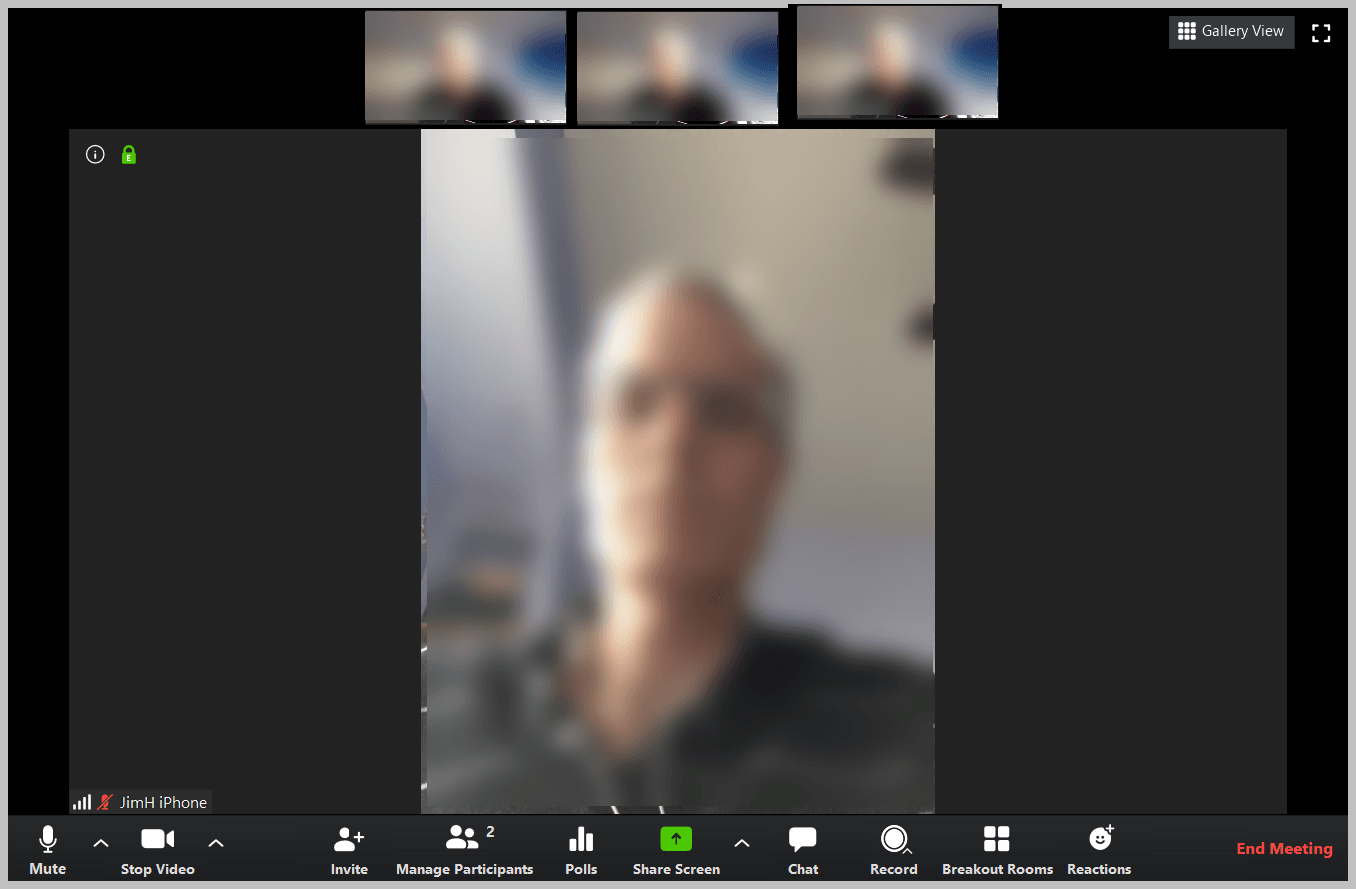 ZOOM FOR ANDROID, IPAD, MAC, AND ANDROID TABLETS
ZOOM SECURITY CONCERNS
DO NOT share any Middle Zoom links or passwords on social media!
The Zoom articles from April 1 concerning shared videos are not a risk if meetings are not recorded. Recording is disabled for Middle Zoom meetings.
There are currently about 200 million people using Zoom on a given day. We are not alone in working with Zoom. There is a lot in the press about Zoom and hacking and data privacy and safety concerns.
The published hacking vulnerabilities are related to very specific circumstances and highly unlikely in our context. They involve either the bad actor actually sitting at your computer, or being in your Zoom meeting and sending a bad web link via the chat in the meeting. You should be safe from both of these.
Also, as with all social media applications, there are data privacy concerns being mentioned in the press regarding Zoom usage. Our selected method of usage reduces many of these concerns. But, please contact us if you would prefer to consider an alternative.
Each meeting will have a link unique to that particular meeting. If this is a recurring meeting (such as bible study) the same link will be used. You can also always connect by a traditional phone call and completely avoid any Zoom installation on your phone of computer if you prefer.