SERMON SERIES: Where's the Hope in Christmas Chaos?
Have you ever thought about the chaos surrounding Jesus' birth? That first Christmas wasn't sweet or simple; it was dangerous and difficult! It was filled with the chaos of disappointment, displacement, discomfort, disruption, danger, disillusionment and doubt.
The hope of Christmas, then and now?
Character is created in chaos. Possibilities are present in problems.
Why's are turned to wonder as we gaze into the eyes of our Savior.
God continues to enter our chaos.
Are we willing to let Him bring us hope and healing?
Week 1 - The Chaos of Disappointment
SERMON NOTES
Where do you find hope in the chaos of DISAPPOINTMENT?
Disappointments are opportunities to WORSHIP.
Disappointments are opportunities to TRUST.
Our progress is only progress if it fulfills God's PURPOSE and turns our attention toward Him.
Disappointments are opportunities to ENCOURAGE others.
Disappointments aren't setbacks; they are TOOLS God can use.
When we submit our disappointments to God, we can use them as FUEL instead of FAILURE.
Week 2 - The Chaos of Displacement
THE CHAOS OF DISPLACEMENT…
More than anything displaced people want to be a PLACED people.
The plot of Christmas is to bring us BACK to God.
Scripture calls us "TEMPORARY RESIDENTS AND FOREIGNERS" in this world.
God can use your displacement for His GLORY!
God moves the most when you're outside your COMFORT ZONE!
God has a JOURNEY for you: from your place of COMFORT to the CENTER OF HIS WILL.
Our hope in the chaos of displacement
· Recognize that HEAVEN is your real home.
· Look for what God is doing BEHIND THE SCENES
· Ask God to show you ways to live a life of EXAMPLE and INFLUENCE others.
· Remember, the journey is the way to God's PROMISE.
· Travel with the expectation that God goes WITH you and He will PREPARE your way.
Week 3 - The Chaos of Displacement
SERMON NOTES
THE CHAOS OF DISCOMFORT…
As followers of Jesus, our lives should frequently feel like THERE'S NO ROOM FOR US.
We should never fully "FIT IN" because we were born for something DIFFERENT.
The good news is that Jesus has PREPARED A ROOM FOR US!
The chaos of discomfort is that God calls the HEARTS of believers to prepare room for HIM.
It will set you APART when you make room in your heart and trade your DREAMS for His GLORY!
Week 4 - The Chaos of Disruption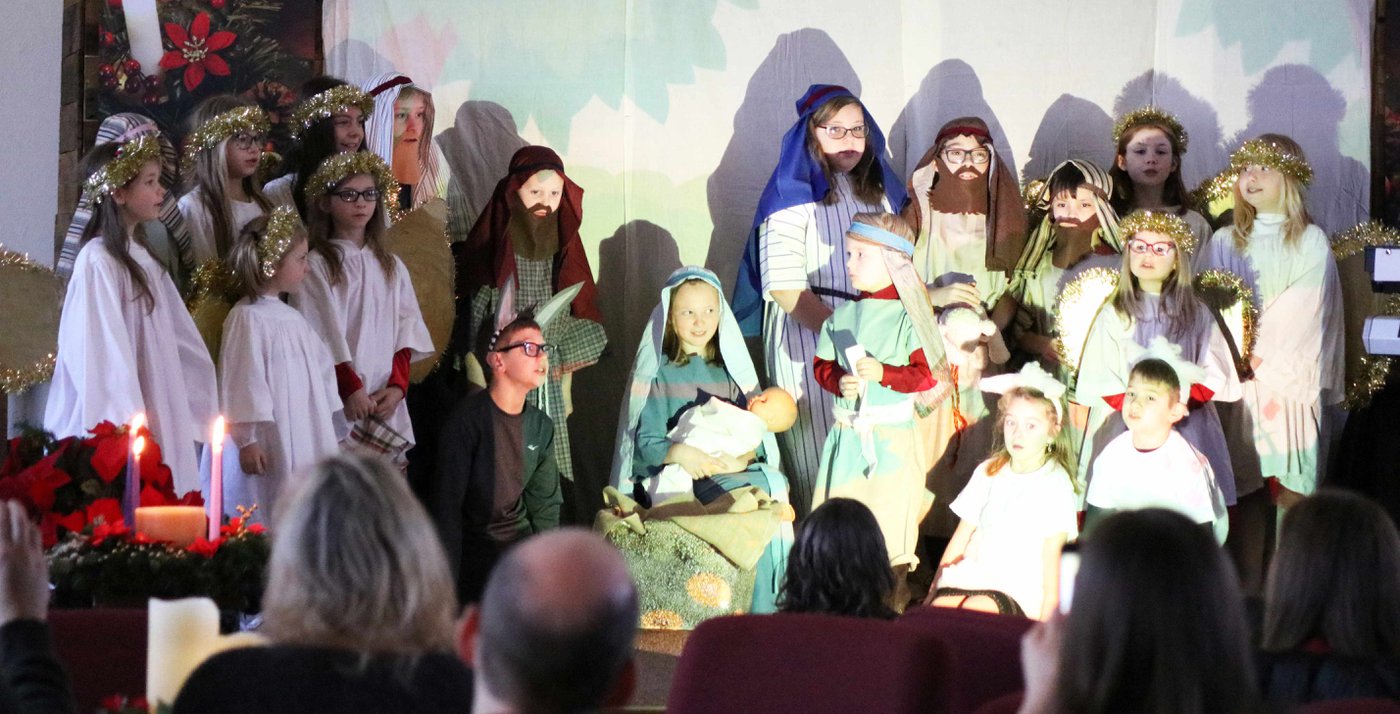 MidKids shared the Christmas story according to the Gospel of Luke this morning.
You can watch the video below and then listen to Pastor Linda's sermon response...
Christmas Eve - Undercover Messiah
Week 5 - The Chaos of Danger
SERMON NOTES
The Magi sought the TRUTH even when it would take them far from their COMFORT ZONE.
God is AVAILABLE to any who seek Him.
Will you listen to the ENEMY, or recognize God's authority and power?
Threats to our position and power could be God's opportunities to leave a LEGACY.
God is more concerned with WHO we are than the POSITION we hold!
God is in CONTROL even as the events surrounding His work unfold in UNEXPECTED ways.
Week 6 - The Chaos of Disillusionment
The message this morning was given by an elder. Just prior to worship, Rev. Snyder was called to be the on-site chaplain at the local hospital, following an accident involving a bus, 2 semi-trailers and a car, with 5 fatalities. The message did not record well enough to publish.
Week 7 - The Chaos of Doubt
Do you ever doubt God's goodness?
Do you ever ask God why?
Do you ever wonder where God was when something unthinkable happens?
The final chapter of the Christmas story, Matthew 2:13-18, recounts one of those unthinkable moments.
A video was shown of the Bible reading, which is what you hear on the sermon recording.
In the unthinkable moments of life, the chaos of doubt causes us to "question" God's Word and God's character.
Instead of finding our refuge and strength in God, we wonder why a good God would allow such bad things to happen.
There are 3 things God wants you to hear… and understand.
1. Satan loves to place us in the chaos of doubt.
It was his weapon of choice in the Garden of Eden before there were any unthinkable moments.
It is an even more effective weapon in a pain filled, fallen world.
In the chaos of doubt Satan tries to convince us that God is flawed. But in reality, we are the ones who are flawed.
2. Because we live in a fallen world, unthinkable things happen - and not just to unsaved people!
As believers, we are not protected from the unthinkable.
Unthinkable tragedy is an equal opportunity employer because death is the universal consequence of sin.
3. In the midst of the unthinkable, the Holy Spirit testifies that we can depend on the love of Jesus.
(The Sunday prior to the unthinkable accident, the Holy Spirit conveyed this message to Rev. Snyder.
She thought it was the tag-line for this Sunday's sermon,
but it also proved to be a prophetic message she would need at the hospital...
proof that God was present as she ministered to the family, who lost a nine-year-old child in the accident.)
Distress, disaster, even death - don't have to lead to the chaos of doubt.
They can lead us to depend on the love of Jesus.