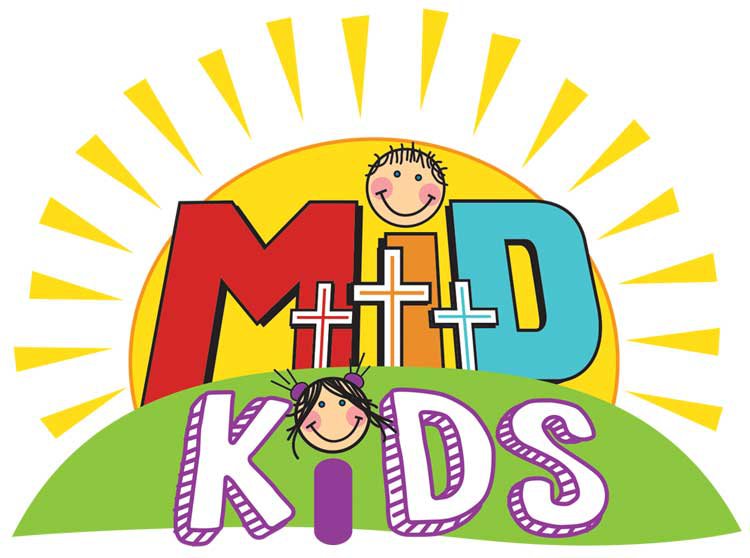 Due to the COVID-19 Crisis - JOIN US FOR MidKids ONLINE!
While our MidKids programs are unable to meet in person,due to the COVID-19 crisis...
our MidKids Children's Ministry is now meeting online!
Join MidKids every Thursday at 6:00pm on the Middle Church Facebook page for some high-energy, faith-based games that will get your family playing together and praying together!
Check out the MidKids Online Facebook Playlist for previously published Thursday night program posts!
PROGRAMS
Your child matters to God and matters to us! We want them to learn about who God is and who they are because of Jesus Christ.
We do this through age-specific lessons, small groups, and trusted adult leadership in a variety of programs!
Cry Room at the rear of the worship center
Nursery/Toddlers (Birth thru 3 years) - Sunday morning from 8:45-11:45am
Sunday School (4 years thru Jr. High) - Sunday morning from 9-10am (summer hiatus begins 6/7/20 - resumes 9/6/20)
MidKids Worship (4 years - 5th grade) - during the pastor's sermon each Sunday morning
MidKids In Action (2nd thru 6th grade) - Thursday night from 6-7pm
MISSION & CORE VALUES
MidKids Ministry exists to help children discover Jesus as their personal Lord and Savior
AND to live out the gospel in their everyday lives.
We believe age appropriate activities help children build relationships with God, with adults and with each other!
We believe safety matters so every adult in every program has been interviewed and trained, and has a current background check on file. Safe Child Guidelines are followed. Nursery toys and surface areas are disinfected after each session.
We believe God has given parents a mandate to help their children grow in faith, so our role is to partner with parents.
We believe ministry is not "to" children, but "with" children. So we believe every program must be child-centered, relevant, relational, creative, fun and God-honoring. God's not boring; children's ministry shouldn't be either!
We believe children should feel God's unconditional love, so our discipline practices reflect God's love and grace.
MEET OUR MIDKIDS DIRECTOR
Melissa Withrow joined the leadership team at Middle in 2018. She has a Masters Degree in Education and is an art teacher in the Belle Vernon Area School District. She has been our Vacation Bible School Director since 2012.