GREAT AND AWESOME... Our God Who Rebuilds
Week 6: God Who Makes Mission Possible - The Biblical Cycle of Success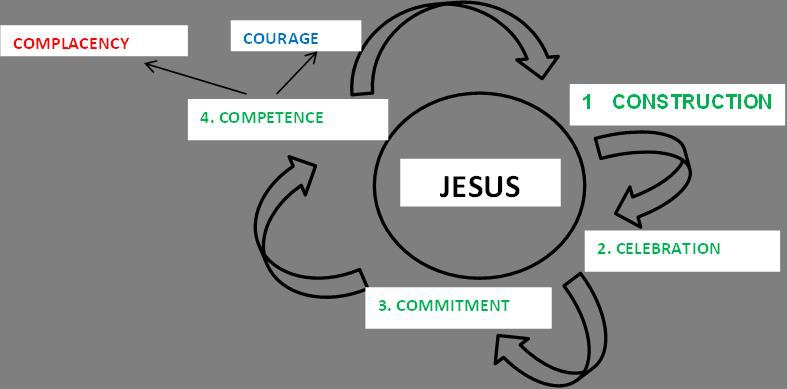 Biblical success always starts with God's call.
The cycle of MISSION POSSIBLE centers on keeping Jesus in the middle.
When you answer God's call, Phase 1 begins with the chaos of CONSTRUCTION. (Nehemiah 1-7)
Construction is a time of INTENSITY.
The intensity, hard work, changes, challenges and uncertainty of construction can't be maintained forever.
Phase 2 begins with CELEBRATION (commissioning). (Nehemiah 8 and 12)
Phase 2 brings on the PARTY! (Just be sure to keep Jesus in the middle.)
Celebrations are built into the entire story of the Bible, but we can't stay on the mountaintop.
We must move from celebration to Phase 3: COMMITMENT (Nehemiah 10)
The business of construction is often hard on relationships. In Phase 3 you bring back the COMMUNITY.
After the commitment phase, you eventually reach a new level of COMPETENCE (Phase 4). When you reach maximum CAPACITY, you have a DECISION to make...
Will you have the COURAGE to enter into another season of construction? Will you grow and go?
Will you choose COMPLACENCY and refuse to enter the intensity of construction once again? Will you stand by to die? (Nehemiah 13)
Week 5: God Who Answers Prayer
SERMON NOTES
If you want to make a difference bigger than you, you will face problems bigger than you.
Nehemiah was a great leader because he was a great pray…er! (James 5:16, Philippians 4:6, Matthew 6:7-9)
Nehemiah helps us understand the WHO, WHAT, WHERE, WHEN, HOW & WHY of prayer…
WHO: Nehemiah focused on the greatness of the One he was praying to. (Nehemiah 1:5, Hebrews 12:2)
WHAT: Nehemiah prayed:
for favor (Nehemiah 1:11)
against resistance (Nehemiah 4:4, 9)
for strength (Nehemiah 6:9)
against spiritual apathy (Nehemiah 13:14)
for God's will (Nehemiah 6:15-16)
WHERE: Pray where you have responsibility.
WHEN: Make prayer a first response, not a last resort.
HOW: With repentance and without ceasing.
WHY: We are not great and awesome! God is great and awesome!
The chief purpose of prayer is that God may be glorified in the answer!
DOES God really answer prayer?
Through Jesus Christ we have unhindered access to the throne room of God.
Our prayer call is to plead with God for those who do not have the access we have.
Week 4: God Overcomes
Nehemiah 6:15–16
So the wall was completed in fifty-two days. When all our enemies heard about this, all the surrounding nations were afraid and lost their self-confidence, because they realized that this work had been done with the help of our God.
Why do we often have less life than we dream of having?
1. It's easier to dream it than to do it.
2. We make half-hearted commitments that lead to good intentions and bad results.
3. Convenience is really a half-hearted yes.
We serve a great and awesome God who overcomes when we are devoted to Him!
So the question Nehemiah helps us to answer is… WHAT IS DEVOTION?
To be devoted we must:
1. be obedient
2. sacrifice to serve
3. refuse to be distracted
4. care about those in need
5. follow prayer with a leap of faith
Why do we often have less life than we dream of having?
The reason many of us never overcome…the reason we don't have the abundant life God wants for us…
We give half-hearted yes's. We never really devote to what we claim we desire.
Week 3: God Protects What Matters
The sermon didn't record this week. I am so sorry if you have been listening online. Here are the SERMON NOTES for this week.
The Scripture is Nehemiah 7:1-3 and Nehemiah 4
1. We all need "Walls to Protect" and "Gates to Prosper."
2. Life doesn't just happen to us. We let things in and refuse to keep things out.
3. You get to choose what walls and gates you build. But you don't get to choose the
consequences that go with your choices. So - be careful where you build your walls and who/what guards the gates in your life.
4. If you are going to build Godly walls and gates, there will be opposition!
ridicule
anger, intimidation and threats
discouragement
fear
5. Pick up a shovel and carry a sword.
6. You are not alone and you are not on your own.
7. God protects what matters.
Week 2: God Rebuilds What is Broken
Something Nehemiah would want us to know: God rebuilds broken things
When God rebuilds, it's not always changing things around us, sometimes it is changing things within us.
One thing Nehemiah would want us to do: Pick up a shovel for God's cause!
Something we can do: Pick up a shovel for God's cause!
Week 1: The Back Story Leading Up to Nehemiah
SERMON NOTES
Home is where the heart is…
Exile is where the heart is broken…
Return is what the heart longs for…
Ezra-Nehemiah is a 3-stage return story.
We know what living in exile is… we know that we no longer live in the Garden of Eden.
God wanted Nehemiah to join Him in a cause.
Nehemiah's holy discontent created in him a willingness to raise walls, reach people and rebuild lives.
The more we understand that God is great and awesome, the more we are changed.
When we make light of God's greatness, the heavier life becomes!